Spicy hilsa fish head curry with vegetables
Servings: 4 | Time To Prepare: 30 minutes | Submitted By: Chitra Nag
---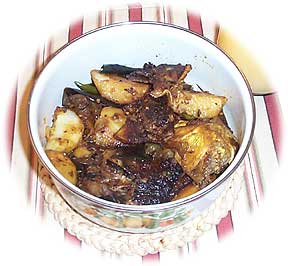 Ingredients
4, use head only Hilsa or Shad fish
1, medium Eggplant
2, large (cut each into 8 pieces) Potato
1, tsp Panch Phoron
5, sliced Green Chili
2, whole Whole Red Chili
2, tsp Turmeric powder
1/2, tsp Sugar
to taste Salt
4, tbsp Mustard Oil
1/2, cup Water
Instructions
Cut each hilsa fish head into four pieces, remove fins and wash, Mix the pieces well with salt & one teaspoon turmeric powder and set aside.
Heat oil and fry the fish head pieces. Remove and set aside.
Add panch-phoron and whole red chili in the same hot oil and fry till light brown.
Add all other ingredients and cook in reduced heat for 8/10 minutes.
Add the fried hilsa fish head pieces. Add 1/2 cup water and cook till water dries out and well fried.
Serve hot with rice.
Ratings
surja (8/15/2003)….Instead of eggplant we can use Bandhacopi
papri (8/6/2003)….i tried this several times, i also added pui saag to it. it came out great.
shaanivi (7/26/2002)….great
daisyguha (5/25/2002)….this is good. me and my husband liked it very much.