Vegetable fritters made of gram flour and fenugreek leaves.
Servings: 4 | Time To Prepare: 20 min | Submitted By: Priyanka Nag
---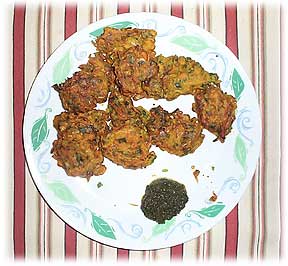 Ingredients
3/4, cup, finely chopped Methi Leaves
1, small, finely chopped Onion
1/2, cup, finely chopped Cilantro
1/2, tsp Turmeric powder
3/4, tsp Red Chili Powder
6, finely chopped Green Chili
1/4, tsp Amchur Powder
to taste Salt
1/2, cup Gram Flour
as reqd. for thick consistency Water
1/2, cup Cooking Oil
Instructions
Add all the ingredients together. Make a batter of slightly thick consistency (like cake).
Heat oil in a wok. Fry small portions of this mixture on a medium flame till they turn brown. You can use round spoon to make them same size. Great appetizer for the parties.
Note: these are the reviews posted by users on the old angithi.com website,
which has been now ported to this blog site.