Minced Mutton with chick-peas. This preparation is very famous in Bengal, a good accompany with Radhaballobhi or Luchi.
Servings: 6 | Time To Prepare: 1 hr. | Submitted By: Priyanka Nag
---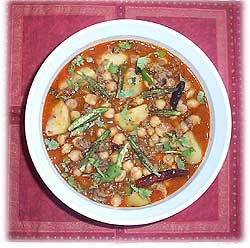 Ingredients
250, gms White Chickpeas
125, gms, minced. Meat (lamb or goat)
5, tbsp Cooking Oil
2, medium, sliced Onion
2, tbsp, finely chopped Ginger
2, tsp Cumin Seed Powder
2, tsp Ground Black Pepper
2, tsp Garam Masala Powder
1, tsp Red Chili Powder
4, Whole Red Chili
3, medium, cut into 1/4 inch cube Potato
1/2, diced into small pc Coconut
3, cups Water
1, tsp Sugar
to taste Salt
2, Bay Leaf
Instructions
Prepare chickpeas by soaking in water for 5 to 6 hours or overnight. Drain and put to boil until chickpeas are done. If you are using the canned one then it is ready to use.
Heat 2 tbsp of oil in a frying pan. Fry the chickpeas  in medium heat.
Add half the powdered masalas and ginger. Stir for 10 min. Add 2 cups of water and salt to taste. Cook for another 10 min.
In another pan heat 2 tbsp oil. Fry the diced potatoes. Keep aside. Then fry the diced coconut and keep aside.
Fry the sliced onion till it turns golden brown.
Add rest of ginger, fry for another 2 to 3 minutes.
Add rest of the powdered masala. Fry for another 10 minutes
Add minced meat and fry till oil starts coming out from the side of the pan. Keep on stirring to avoid the meat to stick to the bottom of the pan.
Add remaining water, salt to taste, potatoes and simmer in medium heat until the meat and potato is cooked properly.
For Seasoning: Heat one tbsp oil in a frying pan. Add bay leaf and whole red chili. Fry for half a minute. Add the chickpeas and meat. Stir.
Add water as required for consistency. Add sugar and bring to boil. Remove from heat.
Garnish with chopped cilantro and green chili. Serve hot with rice or luchi (bread).