Finely chopped crispy fried potato. Eat it just like that or as a side dish with Lentil & Rice
Servings: 4 | Time To Prepare: 10 min | Submitted By: Shantanu Nag
---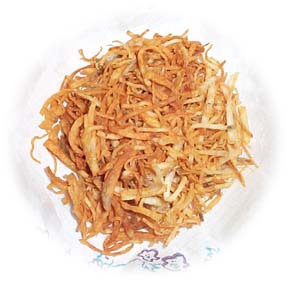 Ingredients
2, pc, finely chopped Potato
1, tsp Salt
3, cups Water
1/2, cup Cooking Oil
Instructions
Cutting the potato properly is the main step. First remove the potato skin with a peeler. Cut fine round slices of potato. Then take a bunch of the round slices and cut them lengthwise finely.
Alternatively you can use a food processor to cut the potatoes. It is fast and easy.
Wash the potato properly under running water.
Mix the salt and water and soak the potato for 30 min.
Heat oil in a frying pan. Take a handful of soaked potato. Strain the water, and deep fry.
Goes well as a side dish with hot rice and butter, or with masur dal.
Ratings
daisee (10/30/2005)….Very tasty.
abanerji (12/26/2004)….For better results, do the following – (a) keep the potatoes in water overnight (b) In step 4, do not use salt, but add salt, immediately after frying. Both steps change the way water within the potato is used in this recipe.
Shinu (3/5/2004)….Tastes very good when eaten as soon as you fry them.
alonag (4/26/2003)….Shantanu-da…..it is delicious !!
Alo Nag
Note: these are the reviews posted by users on the old angithi.com website,
which has been now ported to this blog site.