Potato and Onion fried together to make a tasty preparation. Fast to cook and tasty to eat. Goes well with Puri
Servings: 4 | Time To Prepare: 20 min | Submitted By: Shantanu Nag
---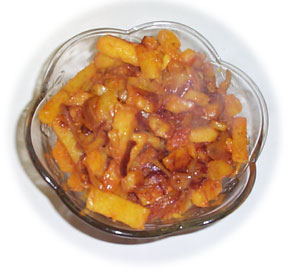 Ingredients
1, large, cut into 1 inch long strips. Potato
1, medium. finely chopped Onion
1/2, tsp Red Chili Powder
1/2, tsp Turmeric powder
3, tbsp Cooking Oil
to taste Salt
Instructions
Heat Oil. Mix everything together and fry in medium heat for 20 min, or till the potato is properly cooked.
Goes very well with puri.
Ratings
vani_bs (1/2/2003)….After frying a little, better to sprinkle a little water and cover until fully cooked.
Note: these are the reviews posted by users on the old angithi.com website,
which has been now ported to this blog site.