Mutton cooked in Mughlai style. The preparation is unique, and if you follow the steps then you will be licking your fingers after you are done.
Servings: 4 | Time To Prepare: 2 hrs | Submitted By: Shantanu Nag
---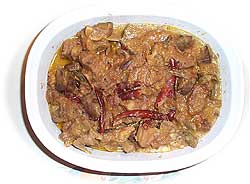 Ingredients
1, lb, (ribs favorable) Meat (lamb or goat)
1, medium, paste Onion
2, tbsp, paste Garlic
1.5, tbsp, paste Ginger
2, tbsp, grounded to paste Cashew nut
4, crushed Cardamom
3, crushed Black Cardamom
3, tbsp Yogurt
2, tbsp, (not sweet) Cream
1, tsp Mace
10, kept whole Whole Red Chili
6, slit Green Chili
to taste Salt
1, tsp Sugar
1/4, tsp Saffron
2, tbsp Milk
1, tsp (optional) Kewra Water
1/2, cup Ghee
Instructions
In a large bowl mix the meat, yogurt, onion, ginger, garlic, cashew paste, green and black cardamoms, mace powder, salt and sugar. Marinade for 1-2 hours.
In a cooker heat ghee. Add the meat shaking off the excess marinade into the bowl. Fry in medium heat for 15 minutes.
Add all the marinade and whole red chili. Mix and bring it to boil on full heat.
Reduce heat to low, cover and cook for 45 to 60 minutes. Make sure not to let the meat stick to the bottom of the cooker by stirring it frequently.
Cook till the meat is tender. Add water as required so that the meat does not stick. If needed give 3 to 4 whistles to make the meat tender. Remove pressure.
Mix the milk and saffron in a small sauce pan and heat for a minute. Add it to the meat.
Add cream and slit green chilies to the meat. Bring it to boil on full heat. Reduce heat and simmer for 15 minutes.
Add the Kewra water and simmer for another 10 minutes. Remove from heat and serve with rice, pulao or paratha.
More Pictures
| | | |
| --- | --- | --- |
| 1 | | Mutton mixed with yogurt. Onion, Ginger-Garlic, and cashew Paste. |
| 2 | | Mix and Marinate |
| 3 | | Fry meat shaking off excess marinade. |
| 4 | | Adding red chili, and fry. |
| 5 | | Add rest of marinade and fry properly. |
| 6 | | Adding milk mixed with saffron |
Ratings
shwetasinhade (5/4/2004)….I loved it the only problem was the whole red chilli melted while cooking and the rezala was too hot.
Stephen3 (4/18/2004)….very nice but you must like hot ones try putting in half the chillis
mitikasach (7/15/2002)….Finally found a good recipe for Mutton Rezala, one of my favorites.
Note: these are the reviews posted by users on the old angithi.com website,
which has been now ported to this blog site.