Sweet and sour dessert made of unripe mango. Goes as a great dessert after a Bengali meal. Great during summer times.
Servings: 4 | Time To Prepare: 30 min | Submitted By: Chitra Nag
---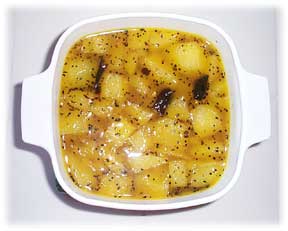 Ingredients
2, cut into small pieces Green Mango
1, cup Sugar
2, Bay Leaf
1/2, tsp Panch Phoron
1/2, tsp, grated Ginger
1/2, tsp Salt
1/4, tsp Turmeric powder
4, cups Water
1, tbsp Mustard Oil
Instructions
Heat oil. Add the bay leaves and panch-phoron. Fry for a minute.
Add grated ginger and fry for 2 minutes.
Add the mango pieces, salt, turmeric powder, water and bring it to boil.
Add sugar and simmer for 10 minutes. Serve cold. Usually taken after a complete meal.