Curry of spicy balls made of ground Chitol fish. Bengali delicacy!
Servings: 4 | Time To Prepare: 2 hr | Submitted By: Chitra Nag
---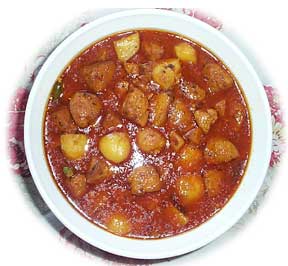 Ingredients
For Muthia ( Fish balls)
1, lb, paste Chitol Macch
1/2, medium, grated Onion
2, cloves, paste Garlic
1/2, tsp Garam Masala Powder
1, inch, paste Ginger
1, tsp Red Chili Powder
1, tsp Turmeric powder
1/2, tsp Salt
For Curry
1/2, tsp Cumin Seeds ( for seasoning)
2, Bay Leaf ( for seasoning)
1, tsp Cumin Seeds
1, tsp Coriander Seeds
5, Whole Red Chili
2, Bay Leaf
2, Green Chili
1/2, tsp Turmeric powder
1, small Onion (chopped)
1, clove Garlic
1/2, tsp Garam Masala Powder
1/2, tsp Sugar
1,  Tomato (small, chopped)
2, Potato ( peeled and sliced into 4 pieces each)
as required Cooking Oil
1, tsp Ghee
2, cups Water
Instructions
First we need to make the Muthia ( fish balls), and then the curry. To make the Muthia (Fish Balls) use the ingredients from Chitol Macch to Salt. The rest of the ingredients are for making the curry.
Steps for making the Muthia:  Add all the ingredients from onion to salt to the Chitol fish paste and mix properly.
Make 2 inch diameter balls out of the fish paste.
Boil water in a saucepan, and drop the balls in the water & boil for about 15 minutes.
Take the balls out and keep it in a sieve, and let it cool down.
Take each ball and cut into 8 cubes approximately.
Heat oil in a frying pan and fry these cubes in the oil and keep it aside. If you want you can have the fried fish cubes just by itself, or in a curry (follows next).
Steps for making the curry: Grind cumin seeds, coriander seeds, bay leaf, ginger with little water. Keep it aside.
Cut potato into small cubes and mix 1/2 tsp turmeric powder and salt. Heat oil in a pan, and add the potatoes. Fry till the potato turns light brown.  Remove from the pan.
In the same pan. Add cumin seeds & bay leaf for seasoning. Fry till splutters.
Add the sliced onions and fry till it turns light golden brown.
Add the masala paste from step 8 by passing it through a sieve, so that only the juice is added. Throw away the pulp and cook for few minutes.
Add red chili powder, turmeric powder, and chopped tomatoes. Fry for 5 minutes.
 Once the spices are fried properly, add the fired potato and the fried muthias. Mix properly and fry for another  few minute or so.
Add 2 cups of water and bring it boil. Add salt, garam masala, and ghee & sugar as reqd. Reduce heat, and let it simmer for 10 minutes. Serve hot with rice.
| | | |
| --- | --- | --- |
| 1 | | Fry potatoes |
| 2 | | Fish balls |
| 3 | | Fish balls in boiling water |
| 4 | | Remove balls from boiling water. |
Note: these are the reviews posted by users on the old angithi.com website,
which has been now ported to this blog site.