Hilsa fish cooked in red chili curry. Bengali specialty. Hilsa fish is considered to be one of most favorite and delicious fish in the world. It is the most popular fish to the Bengalis who call it as Ilish. It is found in Indian sub-continent & especially in Bangladesh. In North America, you will get a fish called American Shad. Shad is similar type of  fish to Hilsa .
Servings: 4 | Time To Prepare: 1 hr | Submitted By: Chitra Nag
---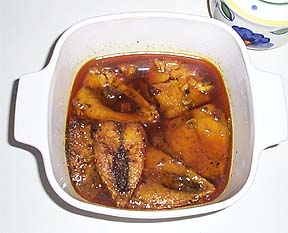 Ingredients
8, pc Hilsa (Shad) fish
15, pc Red Chili pepper
1, tsp Turmeric powder
1/4, tsp Nigella (Kalo Jeera) seeds
5, pc, slit lengthwise Green Chili
2, tbsp Mustard Oil
2, cups Water
to taste Salt
Instructions
Grind the red chili with some water to a fine paste. Strain the paste and keep aside the liquid.
Heat oil in a pan. Add Nigela seeds. Fry for a minute.
Add the chili paste. Fry for 5 minutes.
Add turmeric powder. Fry for a minute.
Add the fish, one at a time. Turn over each fish.
Add water, green chili, and salt. (Optional: You can also add fried eggplant mixed with salt and turmeric).
Bring it to boil. Reduce heat and simmer for 10 min. Serve with hot rice.
Note: these are the reviews posted by users on the old angithi.com website,
which has been now ported to this blog site.