Chinese noodles in thick Prawn sauce. Very tasty. A must try if you love Chinese food.
Servings: 4 | Time To Prepare: 60 min | Submitted By: Shantanu Nag
---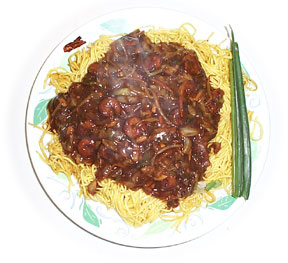 Ingredients
3, tbsp Cooking Oil
1, tsp Red Chili Powder
5, flakes, crushed Garlic
1, cup, small cleaned & deviened Prawn
4, tbsp Bean Sprout
1, tbsp, shredded Mushroom
1, green, shredded Bell Pepper
50, gms, shredded Cabbage
2, tbsp Soya Sauce
2, tsp Vinegar
1, cup Chicken Stock
1/2, tsp Salt
1/2, tsp Sugar
1/2, tsp, grounded Peppercorns
1/2, tsp Ajinomoto
1, tbsp, dissolved in 1/2 cup water Corn Flour
100, gms Noodles
1/2, tsp Red Chili Powder
1/2, tsp Salt
2, pc Red Chili pepper (dried)
2, tsp Soya Sauce
4, tbsp Cooking Oil
Instructions
Boil the noodles: Boil 6 cups of water with 1 tsp salt. Boil the noodles in salted water for 3-4 minutes. Make sure not to over boil it. Drain the water. Wash the noodles under running cold water. Rub little oil to prevent it from sticking.
Shred all the vegetables. In a frying pan, heat 3 tbsp oil, reduce heat and add chili powder. Add garlic. Add prawns. Fry to light golden brown.
Stir fry in sequence- onion, bean sprout, mushrooms, green bell pepper, carrot and cabbage.
Reduce heat and add the stock. Add the salt, sugar, pepper, and ajinomoto.
Give a boil and add the corn flour paste. Cook till the sauce turns thick. Remove from fire and keep aside.
In a frying pan heat 4 tbsp oil, add broken dried red chilies and 1/2 tsp chili powder.
Mix in the boiled noodles. Add salt and Soya sauce. Stir fry for 3 minutes.
To server, put noodles on a platter. Pour warm chicken and vegetable sauce over it.
Note: these are the reviews posted by users on the old angithi.com website,
which has been now ported to this blog site.