An Indian Chinese Delicacy for preparing at home by the really lovers of Chinese preparations.
Servings: 6 | Time To Prepare: 30 min | Submitted By: Shantanu Nag
---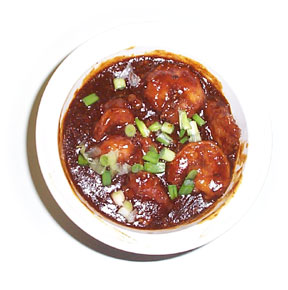 Ingredients
12, shelled & deveined Prawn
4, tbsp, for frying Cooking Oil
1, lightly beaten Egg
1, tsp Salt
1/2, tsp Sugar
1/4, tsp Ajinomoto
1, tsp Sesame Oil
1/4, tsp Ground Black Pepper
1/4, cup Corn Flour
2, tbsp, paste Garlic
3/4, cup Cooking Oil
4, tbsp Tomato Sauce
2, tsp Soya Sauce
1, cup Water
a pinch Sugar
1/4, tsp Ajinomoto
Instructions
First make the marinade. Use ingredients from Egg to Corn flour.
Batter: Beat egg lightly with salt, sugar, ajinomoto, sesame seed oil, pepper and corn flour.
Add prawns to this mixture, stir and leave to marinate for 30 min.
Heat 1/2 cup oil in wok. Drain off excess marinade from the prawns and fry prawns to golden brown.
Drain well and place on paper towel.
Prepare the garlic sauce:  Heat oil and fry the garlic on low heat till it starts to change its color.
Add Tomato ketchup, pepper, salt and  Soya  sauce. Cook for a minute.
Add sugar and ajinomoto.
Add water. Bring to boil and simmer for 2 minutes.
Add corn flour paste, stirring all the time, until the sauce thickens. Remove from heat.
Add the fried prawns and heat through. Serve hot.
Ratings
pralphs (7/15/2002)….Excellent recipe!
uroybarman (5/9/2002)….Woderful recipe.