Good and Easiest Side Dish for dinner/lunch or evening snacks. A must try one.
Servings: 10 | Time To Prepare: 35 min | Submitted By: Atasi Das
---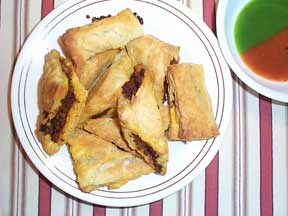 Ingredients
1/2, lb, minced Chicken
1, tbsp Soya Sauce
1/2, tbsp Garlic
1/2, tbsp Ginger
10, pc, sliced Green Chili
1, medium, finely sliced Onion
1/4, tbsp Turmeric powder
2, tbsp Cooking Oil
2, small Potato
1/2, tbsp Chicken Masala
to taste Salt
1, packet Puff Pastry Sheet
Instructions
Heat Oil in a pan. Mix ginger-garlic paste with the onion and fry till brown.
Cut potatoes into small pieces and fry with the onion. Add salt.
Mix the small chicken pieces/minced chicken with the fried potato and onion. Add turmeric powder, chicken masala, Soya sauce and green chilies. Fry till brown.
On the side, cut the pastry sheet into small square pieces (3 inches).
Fill estimated amount of the fried chicken inside each square pastry piece and fold into a triangular shape.
Put the pieces onto an aluminum tray and bake at 375 deg F for 14-15 mins. Remove before they get dark brown.
Serve with pudina chatni, chilly sauce, tomato sauce, anything. Enjoy. You might as well try with any dry vegetable/egg/chicken recipe you cook.
Ratings
radha_g (6/2/2004)….very nice!i am in usa but the dish reminded me of my 'monginis' days
darlingzee (9/7/2002)….This is a great recipe for snack lovers. I tried it out and it was very tasty. I am using it with chicken and spicy spinach filling, it turns out great.
bukun (9/6/2002)….Excellent. Try it out. I used the pepridge farm pastry sheet.