Sweat balls made from Bonde. A very tasty Ladoo – really difficult to resist eating a dozen at a time!
Servings: 4 | Time To Prepare: 30 minutes | Submitted By: Chitra Nag
---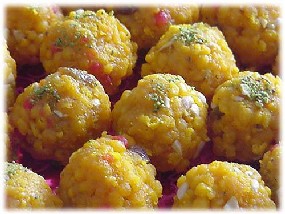 Ingredients
1, lb (unsalted ) Bonde
1/2, lb Khoya
2, tbsp Raisins
2, tbsp (crushed) Cashew nut
1, tsp Nutmeg powder
4, cups Sugar
4, cups Water
1/2, tsp, orange and yellow  Food Coloring
Instructions
First make the syrup. Heat together sugar and water. Bring to boil and simmer until you have a syrup of medium consistency.
Add unsalted bondes to the hot thick syrup. (Optional: For coloring separate the syrup into 2 parts. Add seperate colors and add the bondes). Remove from heat.
After Bondes have soaked in syrup well, remove with a slotted spoon and spread on a flat dish. Allow to cool.
Knead the khoya to a smooth paste and add to the Bonde. Add raisins, crushed cashew nut and nutmeg powder. Mix well.
Using your fingers, form into balls – the size of a table tennis ball or larger. Serve with mishti dahi after dinner / keep in refrigerator.
Note: these are the reviews posted by users on the old angithi.com website,
which has been now ported to this blog site.