Kofta made with green banana and curried to make a tasty alternative to meat kofta curry. Also a very crunchy cutlet alternatively.
Servings: 6 | Time To Prepare: 50 Minutes | Submitted By: Chitra Nag
---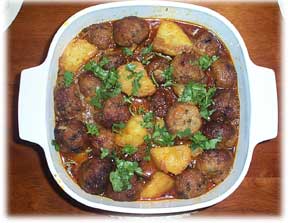 Ingredients
Kofta
4, Green Banana
1, Potato
1, medium (finely chopped) Onion
6, Green Chili
8, finely chopped Cilantro
3/4, in (paste) Ginger
1, tsp Salt
1, tsp Garam Masala Powder
Curry
2, Potato
2, tsp (whole) Cumin Seeds
2, tsp (whole) Coriander Seeds
1, in Ginger
4, Green Chili
1, Bay Leaf
1, tbsp (fresh grated) Coconut
1, tsp Red Chili Powder
1/2, tsp Turmeric powder
3, Green Chili
to taste Salt
1, tsp Sugar
1/2, tsp Garam Masala Powder
1, medium (chopped) Tomato
1, cup ( for frying kofta/cutlet) Cooking Oil
1, tbsp Ghee
2, tbsp Cooking Oil
1, tsp Cumin Seeds
2, Bay Leaf
Instructions
Slice off the stem and tip off the bananas. Cut each banana into two halves. Boil the bananas and one potato. Peel off the skin from the bananas and potato. Mash to pulp.
Add one slice of bread soaked in water and squeezed into the banana and potato pulp. Add onion to garam masala powder and mix well.
Heat one cup oil. Make round balls and deep fry koftas. Will make about 24 koftas. You can also make cutlets adding little corn flour and coating with egg flour mixture and bread crumb and fried to make cutlets.
Cut each potato into fours, add salt and turmeric powder and fry to light brown in the same oil.
Grind to a fine paste all spices from cumin seeds to coconut to a fine paste adding little water. Extract out the juice from the ground masala paste and discard the rest.
Heat two tablespoon of cooking oil and one tablespoon of ghee. Add one tea spoon whole cumin seeds and two bay leaf. When splutters, add the masala extract. Fry for about two minutes.
Add tomato, red chili powder, turmeric powder, three whole green chili, half tea spoon garam masala, salt and sugar. Stir and cook till well fried. Add two cups of water. Bring to boil.
Add fried potatoes and boil in low heat for about ten minutes. Remove from fire. Add fried koftas to the hot curry before serving. Koftas will soak all the curry if left for long time.
Note: these are the reviews posted by users on the old angithi.com website,
which has been now ported to this blog site.