Tasty preparation of black eyed beans (lobhia) cooked with spices.
Servings: 4 | Time To Prepare: 45 min | Submitted By: Chitra Nag
---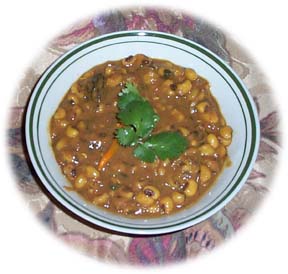 Ingredients
2, cups Black Eyed Beans
3, Green Chili
1, Green Cardamom
2, Bay Leaf
1/2, tsp Turmeric powder
1/2, tsp Red Chili Powder
1/2, tsp Coriander Powder
1/2, tsp Cumin Seed Powder
to taste Salt
1/2, tsp Sugar
2, inch ( grated) Ginger
4, crushed Garlic
2, chopped Onion
1, chopped Tomato
1, cup (chopped) Cilantro
1/2, tsp Garam Masala Powder
3, tbsp Cooking Oil
Instructions
Soak overnight the black eyed  beans (lobhia) in sufficient water. Add six cups of water to all the ingredients from black eye beans to sugar in a large pan. Bring to boil and cook in medium heat till well cooked.
Heat oil. Add garlic and fry for a minute. Add onion and ginger and fry till brown. Add tomato and cook for a few minutes.
Pour boiled lobhia. Add garam masala and cook.
Remove from heat. Garnish with chopped cilantro.
Serve with rice or chapati.
Ratings
Bilina (7/16/2003)….Great Recipe! However I used 5 cups of water since I used canned black eyed beans.
Note: these are the reviews posted by users on the old angithi.com website,
which has been now ported to this blog site.