A tasty snack made of minced meat ball stuffed with boiled egg. It can be eaten as a snack or can be used to make Nargisi Kofta.
Servings: 4 | Time To Prepare: 1 hr | Submitted By: Shantanu Nag
---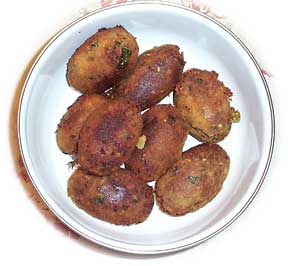 Ingredients
1, lb, minced Meat (lamb or goat)
1/2, cup Bengal Gram
2, small Onion
1/2, inch, chopped Ginger
6, pods, chopped Garlic
1, tsp Red Chili Powder
1, tsp Cumin Seeds
1, tsp Coriander Seeds
1/2, tsp Turmeric powder
4, chopped Green Chili
4, whole Cardamom
1, inch Cinnamon
8, Cloves
a pinch Nutmeg powder
4, flakes Mace
3, Bay Leaf
8, Peppercorns
1, tsp Salt
12, Almond
1, cup Water
4, stalks Cilantro
3, chopped Green Chili
1, beaten Egg
4, hard boiled, cut unto half lengthwise Egg
1, cup Cooking Oil
Instructions
Put all the ingredients from meat to water in pressure cooker and cook until 5 or 6 whistles. Else you can also cook in a pan for about 25 to 30 minutes till well done. Ensure that the meat mixture is not too dry and not too watery.
Cool and remove and grind the mixture to a fine paste in an electric grinder. Check that the mixture is just about dry before removing from the pressure cooker. If you find too much watery then cook without lid for a few minutes till the meat mixture is little dry.
Mix chopped cilantro/green coriander leaves, green chili chopped and one egg with the meat mixture.
Take a handful of the mashed meat and make into round shape and then flatten each ball in the palm of your hand. Put half of the boiled egg, and cover it with mashed meat. Cover the egg with the meat properly. Keep aside. Make eight of the scotch eggs.
Heat oil in a kadai (pan), and deep fry the scotch eggs in medium heat 3 to 4 at a time, till it turns brown.
To make the Nargisi kofta, refer to the Curry for Mutton/Nargisi Kofta. Serve with pulao or Nan.