A traditional green shrub when cooked with shrimp brings out a superb taste of its own.
Servings: 4 | Time To Prepare: 30 minutes | Submitted By: Anindita Nag
---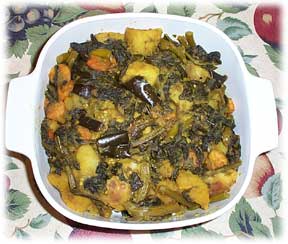 Ingredients
1, bunch Pui shaag
2, Potato
1, medium Eggplant
1/2, lb Pumpkin
1, lb Shrimp
2, tsp Ginger
2, tsp Coriander Powder
1, tsp Turmeric powder
4, Green Chili
to taste Salt
to taste Sugar
1, tsp Panch Phoron
2, Bay Leaf
Instructions
Separate the leaves from the stem of Pui shaag. Cut the stems into about two inch pieces. Cut brinjal, pumpkin and potato into pieces. Add turmeric  powder and salt to all the vegetables. Add turmeric powder and salt to the shrimp.
Heat oil and fry stems of pui shaag, pumpkin, brinjal and potato separately.  Fry the shrimp also separately.
Heat oil. Add panch-phoron and bay leaf. Fry for a minute. Add ginger paste, coriander powder and green chili. Add little water and cook for a few minutes.
Add leaves of pui shaag and cook for a few minutes. Add all the fried vegetables except eggplant. Add salt and sugar.
Cook for about ten minutes in medium heat. Add fried shrimp and eggplant. Cook for a few minutes till well done.
Note: these are the reviews posted by users on the old angithi.com website,
which has been now ported to this blog site.