Parwal curried with potato – specialty of Bengal. Very tasty and fast to cook. Try it today!!
Servings: 4 | Time To Prepare: 20 minutes | Submitted By: Chitra Nag
---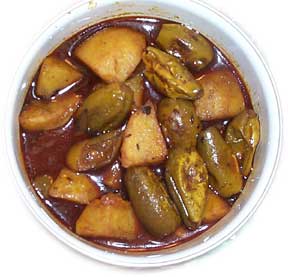 Ingredients
8, Parwal
2, medium, each cut into 6 pc Potato
1/2, tsp Cumin Seeds
2, Bay Leaf
2, tsp Coriander Seeds
1/2, in Ginger
1, Bay Leaf
2, tsp Cumin Seeds
1, tbsp ( sliced) Coconut
3, Green Chili
1/2, tsp` Sugar
to taste Salt
3, tbsp Cooking Oil
1/2, tsp Turmeric powder
Instructions
Cut the ends of the potol and peel skin in strips, giving the potol a stripped effect. Cut each potol in two halves (not lengthwise). Add 1/4 tea spoon turmeric powder and salt to potol and potato.
Grind to a smooth paste all ingredients from coriander seeds to green chili adding 1/4 cup water. Strain the juice from the ground masala and discard the rest.
Heat mustard oil or vegetable oil. Fry potatoes to light brown and keep aside. Fry potol to light brown and keep aside.
In the same oil add half tsp cumin seeds and one bay leaf. When spluttering stops, add masala juice and fry for a few minutes in medium heat. Sprinkle little water while frying masala to prevent sticking.
Add fried potol and potato. Add water and bring to boil. Simmer for about 5 minutes and serve hot with rice or roti.