Dry Banana Flower cooked with spices a specialty from Bengal.
Servings: 4 | Time To Prepare: 60 minutes | Submitted By: Chitra Nag
---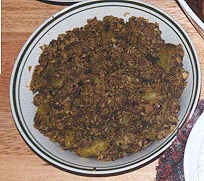 Ingredients
1, in Ginger
2, tbsp Coriander Powder
2, tbsp Cumin Seed Powder
6, Green Chili
1, Bay Leaf
1, tbsp (grated) Coconut
1/2, tsp Garam Masala Powder
1, tsp Turmeric powder
1, tbsp Ghee
3, tbsp Cooking Oil
to taste Salt
1, tsp Sugar
1, cup Yellow Matar Dal
2, Green Chili
1/2, tsp Cumin Seeds
1, cut into eight pieces Potato
Instructions
Peel off one leaf at a time. Remove the long stick-like immature bananas. From the top portion remove the stylus and discard it. Soak in a bowl of water. Continue and when you come to the portion of spandex which has barely any fruit, chop finely. Drain water and chop finely the banana flowers in a food processor.
Boil water in a pan, add the chopped banana flowers, turmeric powder and salt  and continue boiling in medium heat till softens. Strain out water and cool.  Squeeze out water as much as possible.
Grind to a smooth paste all ingredients from coriander seeds to coconut.
Soak for one hour Matar dal. Grind to a fine paste adding 1/4 tsp cumin seeds, salt and two green chili for the vada.
Heat oil. Take small amount of the ground Matar dal and deep fry the vadas.  Fry the potatoes adding turmeric powder and salt. Keep aside vada and potato.
Heat oil. Add 1/4 tsp cumin seeds and two bay leaf. Add chopped banana flower, turmeric powder, salt, sugar. Continue cooking until almost all water has been absorbed.
Add fried potatoes and vadas. Cover and cook in low heat for about ten minutes adding little water if necessary.
Add ghee and garam masala. Mix and serve hot with rice.