Mutton cooked with unripened jack fruit (echor) and potato. Its is a full meal, and this recipe turns out very tasty. Famous Bengali delicacy. Use canned Jack fruit if fresh not available. Must try it out.
Servings: 4 | Time To Prepare: 2 hrs | Submitted By: Shantanu Nag
---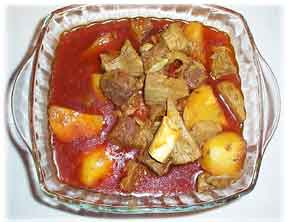 Ingredients
1, cup, segments deseeded & quartered Jackfruit
1, lb, small cubes Meat (lamb or goat)
2, medium, cut each into 4 pc Potato
2, medium Onion
1, tsp Garam Masala Powder
5, pods Garlic
1/2, inch Ginger
1, tsp Turmeric powder
2, tsp Red Chili Powder
2, tsp Coriander Powder
1/2, tsp Cumin Seed Powder
4, tbsp Cooking Oil
to taste Salt
1/2, tsp Sugar
Instructions
Grind  garlic, ginger, 1/2 onion and 4 tbsp water. Strain out the juice and throw away the pulp. Marinade  mutton with this juice, and rest of the spices. Mix salt and sugar and let it marinade for 1/2 hr.
Wash, clean and cut the kathal (jack fruit) into small square pieces. If fresh jack fruit is not available, then you can use the canned version. Mix with 1/2 tsp salt and 1/2 tsp turmeric powder.
Mix the potato pieces. with 1/2 tsp salt and 1/2 tsp turmeric powder. Heat the oil in a cooker and fry till light brown. Keep it aside. In the same oil fry the jack fruit, till it turns light red. Keep it aside.
Finely slice the rest of the onion. In the same oil fry the onion till it turns light brown.
Add the marinade with the mutton. Fry the mutton in medium heat till oil separates into the side of the pan. Will take close to an hour of frying.
Add 2 cups of water and bring it to boil. If required give 3 whistles as required for making the meat tender.
Remove pressure and add the fried potato and jack fruit  Cook in medium heat for 20 minutes. Remove from heat and server hot.
More Pictures
| | | |
| --- | --- | --- |
| 1 | | Jackfuit in can, available in chinese/indian grocery stores. |
| 2 | | Raw ingredients for this recipe |
| 3 | | Mutton cleaned and cut into pieces |
| 4 | | Strain the juice into the mutton. |
| 5 | | Mix rest of spices, as mentioned in step 1 of instruction |
| 6 | | Potatoes mixed with turmeric and salt. |
| 7 | | Fry potatoes in oil till golden brown. |
| 8 | | Jackfruit mixed with turmeric and salt |
| 9 | | Fried jackfruit and potato kept aside |
| 10 | | Fry onions till light brown |
| 11 | | Add the marinated mutton. |
| 12 | | Fry till oil starts coming out |
| 13 | | Add water and the fried potato and jackfruit. Simmer till done. |