Mutton preparation with plenty of onions. A North Indian Favorite preparation.
Servings: 4 | Time To Prepare: 45 minutes | Submitted By: Chitra Nag
---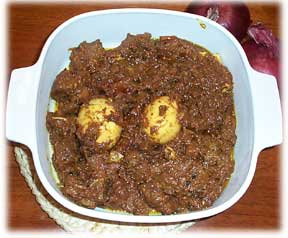 Ingredients
1, lb, cut into small pieces Meat (lamb or goat)
2, lb (chopped) Onion
6, pods (chopped) Garlic
1, inch (chopped) Ginger
1, lb Yogurt
1, tsp Turmeric powder
4, tbsp Coriander Powder
2, tbsp Cumin Seed Powder
1, tbsp Cloves
2, inch Cinnamon
10, whole Red Chili pepper (dried)
2, Bay Leaf
to taste Salt
6, whole (crushed) Cardamom
1, tbsp (crushed) Peppercorns
6, tbsp Ghee
2, boiled Egg
Instructions
Add yogurt and all other ingredients (except ghee) and marinate for an hour.
In a covered pan cook, heat ghee. Add the marinated meat and fry in medium heat. Add little water as required and keep stirring in between to prevent sticking. Fry in medium heat till meat is cooked and water dried out.
Garnish with one full boiled egg for each serving. Serve hot with paratha or roti.
Ratings
ADMIN (11/29/2002)….Very tasty. Strong spices. The boiled eggs tasted very gooooddd.