A quick and easy to cook mutton preparation. Very tasty with very less spices. You will be surprised that mutton can be cooked with so less spices. Try it today!!
Servings: 4 | Time To Prepare: 25 Minutes | Submitted By: Shantanu Nag
---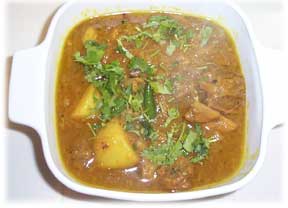 Ingredients
1, lb (lamb) Meat (lamb or goat)
3, medium Onion
2, pods Garlic
1, tbsp Coriander Powder
1, tbsp (powder) Peppercorns
1, tsp, paste Ginger
1/2, tsp Turmeric powder
1, tbsp Garam Masala Powder
4, Potato
2, tbsp Cooking Oil
to taste Salt
4, chopped Green Chili
1/2, cup (chopped) Cilantro
1/2, tsp Sugar
Instructions
Cut meat into small pieces. Slice 2 onions into four pieces each. Take the other onion, and make a paste with half of it and the rest half, cut into slices. Cut the potatoes into half.
Boil the meat in a large vessel. Add the chopped onions, garlic, salt and potato pieces. Add water as required. Cook till mutton is tender. Remove from heat and keep aside.
Heat oil. Add onion and ginger paste. Fry for a minute. Add coriander, turmeric (optional) and peppercorn powder and cook for a few minutes.
Add the boiled meat, potato and onion along with the water. Boil for five minutes. Add garam masala, green chili, salt and sugar. Cook for two minutes. Remove and serve garnished with chopped coriander leaves.
More Pictures
| | | |
| --- | --- | --- |
| 1 | | Boil the meat with all the ingredients as mentioned in step 2 |
| 2 | | Mutton cooked properly and prepared |
| 3 | | Fry onion & ginger paste along with the sliced onions. |
| 4 | | Fry till onion is brown. |
| 5 | | Fry with spices. |
| 6 | | Add the boiled mutton and everything else. |