Potato cooked with tomatoes and onions in an authentic Bengali style. Easy to prepare and tastes very good. Serve with luchi/puri at breakfast.
Servings: 4 | Time To Prepare: 30 min | Submitted By: Chitra Nag
---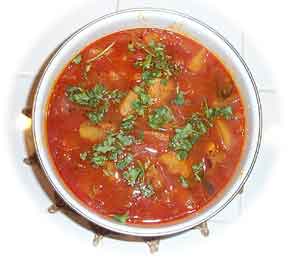 Ingredients
4, cut into cubes Potato
2, cut into cubes Onion
1, Bay Leaf
1, inch chopped finely Ginger
4, sliced lengthwise Green Chili
1/2, tsp Panch Phoron
1/2, tsp Red Chili Powder
2, chopped Tomato
1/2, tsp Turmeric powder
2, Whole Red Chili
to taste Salt
1/2, tsp Sugar
2, bunch chopped Cilantro
2, cups Water
Instructions
For seasoning: Heat oil. Add panch phoron, bay leaf and whole red chili. Fry for 30 seconds.
Add onion and ginger. Add Potatoes. Fry for a few minutes.
Add salt, turmeric powder & red chili powder. Fry for a few minutes.
Add chopped tomatoes, green chili, salt and sugar. Fry for few minutes.
Add water and cook till potatoes are cooked properly and gravy just thickens.
Remove from heat. Garnish with chopped cilantro leaves and serve with roti, luchi/ puri or paratha.
Ratings
mallikaa2 (5/1/2008)….its good….
stuti25 (11/15/2004)….can u tell me the trick to get this red color
ADMIN (6/19/2003)….Thanks for pointing it out. The recipes has been updated. I like it with chappati and is one of my favorite breakfast menus.
Mystic (6/19/2003)….I liked the sabji taste very much but I have a question the method doesnt tell when to put ginger and slices of green chilies. Is it missing or I have to just add in it.
bindiya (4/16/2003)….thanx for the delicious recipy,bindiya 16/04